"Trust is the glue of life. It is the most important ingredient in effective communication. It is the basic principle that holds all relationships together."
I recently spoke with a mom who struggles with trust issues.
Her son, Kyle, is in his early twenties. Kyle is currently ending his treatment program due to his use of meth. Kyle has had multiple relapses, which irritates his mother.
Last spring, Kyle decided not to use meth anymore. After all the problems he went through, Kyle felt ready to stop using drugs. Also, he was talking about getting a job and going back to school.
Then one night he asked his mother if he could use the car to visit his friends. She was hesitant, but he was getting along so well that she agreed. Kyle came home on time and was sober. Kyle then asked to go out with his friends the following weekend and it worked again. The next week he wanted to visit an old friend from his high school. His mother gave her confidence that he was finally in a stable place, so she said yes.
He didn't come home that night. And when he came home the next day, Kyle's mother found out that he was on methamphetamine again. She was very depressed. She didn't want to see her son back down that road.
After several more outbreaks of drug use, Kyle agreed to go to an inpatient program. Now Kyle is ready to take the next step. His mother is again insecure about Kyle's future and wonders if Kyle will stick to his recovery plan.
Can you empathize?
Has your child experienced the beginning and end of recovery?
Sending a son or daughter to therapy can be a huge relief.
You can get out of the long and chaotic road of not being able to trust your son or daughter.
It's an important milestone when your son or daughter is ready to ask for help.
Still, like Kyle, there will be an inevitable day when your child finishes rehab. Your anxiety may start to get the better of you as the day approaches.
The thought of a child returning to drug use can be anxious and stressful.
So how can trust be regained after many disappointments in the past? Remember that your child needs to earn your trust. Often they do, but not immediately.
"As soon as you believe in yourself, you know how to live." ~ Johann Wolfgang von Goethe
As a parent, you can help in the process of rebuilding trust.
Here are five things to consider to get your relationship back on track with your child.
Please be patient.
Restoring trust takes time. Consider being skeptical about what your child is doing during her first year, or at least the first few months. Seeing your child doing well restores your confidence. Don't assume that trust can be built overnight. It may take months of positive behavior before you can trust your child again. Be patient with the process. Your child is learning to trust himself again.
Keep the lines of communication open.
Spend time with your child and have open conversations. Sharing information in a kind and caring way opens the door to doing the same. Proactive communication supports the process of change. For each person, recovery looks different. You can ask your child what they can do if it seems appropriate for your situation. Use open-ended questions to weaken your defenses.
Let your child take the lead.
It may be tempting to try to manage your child's recovery, but now is the time to step back and let your child take the lead. Do your best not to ask your son or daughter whether they went to the meeting or another invasive question about their recovery. I hope you have found something.
Let them know you trust them to make sound decisions. That way, your son or daughter is more likely to live up to your expectations.
Remind yourself that past lies and other harmful actions have served a purpose. The process of change provides an opportunity for your child to practice integrity. As long as you see the behavior that feels right for you, your child is likely to remain trustworthy.
practice card
Carol Bennett, in her article, "Rebuilding Trust in the Recovery Process" Developed an acronym for family and friends
As your loved one's recovery process intensifies, they should experience:
card
C.Reliable = Reliable
aExplainability = Accountable
R.Responsibility = Obligation
D.Reliable = Reliable
"A huge amount of trust is lost through the addiction process," she said. "card" The acronym stands for trust, and once trust, accountability, responsibility, and credibility become routine occurrences, trust can start to recover again. "
Again, this is a time consuming process.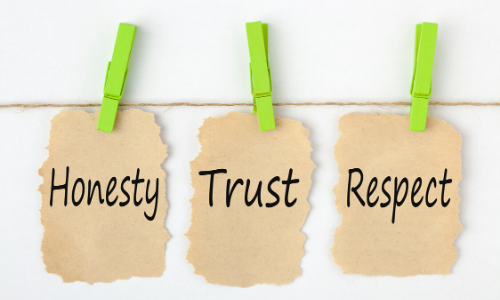 Don't expect perfection.
With any change there are many starts and stops. Hopefully, the treatment your child has gone through has prepared them to embrace change. Still, everyone makes mistakes. If your child makes a mistake, help them get back on track as soon as possible. If your child is making an effort, appreciate their effort,
we are all human. Your child must make mistakes from time to time. With time and effort, things should start to go smoothly. The road is not straight, but you can build trust with your child.
Make sure your child is doing well.
Trust is built when you see a series of positive actions. Research shows that acknowledging a positive behavior makes it more likely to happen again. Observe your child's well-being. They took a big step that changed their lives. Supporting their actions in the form of words or rewards can go a long way in keeping them on the road to recovery. Your child needs you now more than ever. As your positive momentum builds, so does your confidence in your son or daughter.
After being sober for four months, Kyle is doing well. He and his mom were always close and talked often. Their trust in each other continues to grow. They both see the light at the end of a dark tunnel.
This article was updated in March 2023.
---
Access research-based resources Helps support children in kind and caring ways that lead to change.
---